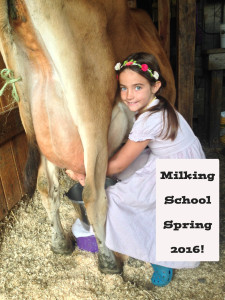 Mini Milking School 2018 to learn natural family cow care with Misty Morning Farm in Virginia.
You are cordially invited to join us for a HALF day of fun and education focused on learning to care for a family cow.
Next Class: June 23rd, 2018 from 9-1
Where: Misty Morning Farm
Tuition: $50 We also welcome other mature family members to come and audit the class. $25 for the first and $15 each additional.
We also offer a couple of scholarships. If you would like to be considered, please send us your request or if you would like to suggest someone whom would benefit, please tell us (after you ask them if they would like to be entered : )
Reservations: Send a non-refundable $25 to hold your families spot via check to: Misty Morning Farm P.O. Box 682, Fulks Run, VA 22830
or paypal to grassfedjerseys@gmail.com
Please include your address, email and phone number and all names of attendees. Cell phone and home so we have an emergency contact. We will send you the confirmation and details for the day.
If you want to stay for some informal chat time, please bring a large dish or two small dishes to share at 1 o'clock after the school. Whole foods that are Chemical and Gluten free please. Please let us know what you are bringing so we can fill in gaps when people ask.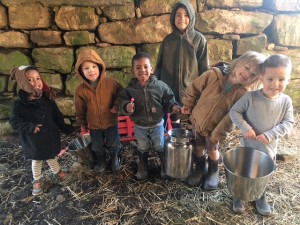 This will be a half day event and will include several subjects revolving around the delight of milk cow care and stewardship so that you are much more confident to care for your very own Cud Chewing Beauty Queen aka Family Milk Cow : ). Subjects will include but not be limited to the following:
Cow buying and training tips and tricks.
How to feed your cow for optimal rumen health.
How to train your calf, when is the PROPER time to wean your calf from milk, how to share milk with the calf
How to treat naturally. AND Where are the health food stores for cows or can my cow stay healthy on the status quo minerals etc. from my local feed store!!
Housing and stanchion options.
How to do simple rotational grazing to reduce weeds, improve forage variety and quality, and make your field more resistant to drought.
How to recognize good, better and best hay and what to do if my hay is not the quality it needs to be to keep my cow in good condition. Healthy ways one can increase the energy in the diet without lots of grain and especially when there is not enough grazing?
Q and A Time thru out the day
This is designed to be a precursor to getting a cow and is intended to answer those questions that lead up to being able to make that decision. A chance for you to see what is involved and have some physical opportunity to see and observe training, housing, pasturing, etc. IT WILL NOT replace the full milking school DVDs and will have very little crossover.
Though I have pics of my grands here from previous years (I don't know how to change them : ) it is NOT geared toward children!!!!! Sorry for any confusion but everything we do has a family focus and we feel it has been one of the very best decisions we have made for our family and they are pretty cute!
We have the complete Milking School on DVD with a Companion Manual